We've spent hours reading stories of how social media was used out of context and caused brands a lot of pain, followers and money.


The moral of the story – Anyone (brands big and small) can make a mistake.

Let's learn from their mistakes, shall we?
There is a fine line between something being inappropriate and edgy. After posting an offensive ad, Belvedere Vodka can explain the difference.
Belvedere ran a campaign for the vodka that was supposed to be easy. Their slogan read "Unlike some people, Belvedere goes down easy."
Unfortunately, the ad included a picture of a smiling man restraining an unwilling woman.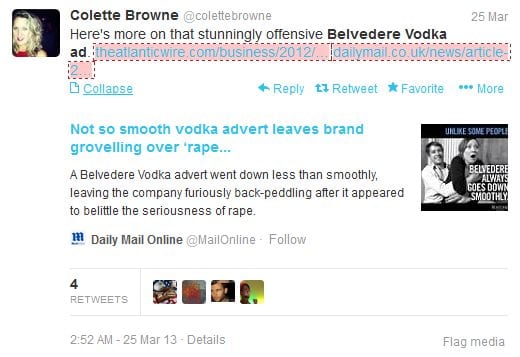 Rape is not edgy. It's lewd.
What can we learn from this?
Be sure that your advertisements aren't inappropriate and/or offensive. It's a rare occasion that these type of posts achieve your marketing goals – unless your goals are to upset large groups of people and potentially harm your brand.
Read our other Case Studies here.
Do you have questions? Want More Info?
Join the #AIMSocial Community and join the discussion!