We've spent hours reading stories of how social media was used out of context and caused brands a lot of pain, followers and money.


The moral of the story – Anyone (brands big and small) can make a mistake.

Let's learn from their mistakes, shall we?
There are billions of hashtags out there – and for everything! So it can be pretty confusing to figure out which one belongs to what. But that's why you do your research.
Celeb Boutique, an online clothing shop, did not.
They sent out a promotional text in 2012 in hopes to build interest on a Kim Kardashian inspired dress. They used the hashtag #Aurora. Unfortunately, they used the same hashtag that was being used to discuss the tragic Colorado massacre.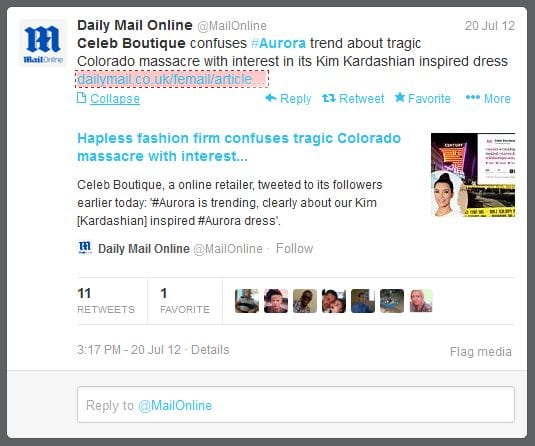 What can we learn from this?
Do your research before using a hashtag. Google it. Check each social media platform to see what else is being posted with the hashtag. This mistake is far too common and very easily avoidable. Don't make a mistake like this that will harm your brand.
Read our other Case Studies here.
Do you have questions? Want More Info?
Join the #AIMSocial Community and join the discussion!