We've spent hours reading stories of how social media was used out of context and caused brands a lot of pain, followers and money.


The moral of the story – Anyone (brands big and small) can make a mistake.

Let's learn from their mistakes, shall we?
Last week we talked about Belvedere's offensive ad portraying a smiling man restraining an unwilling woman. This week we're going to talk about another inappropriate and offensive marketing campaign that caused the brand issues on Twitter.
Popchips launched a new campaign that included a racist commercial. It included Ashton Kutcher donned brown-face to play a stereotypical Indian man.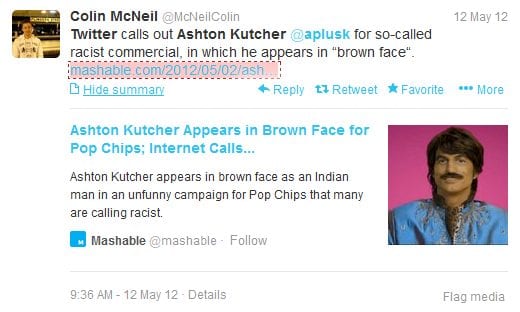 The moment a commercial, tweet, video or post goes live, users are able to make comments and post complaints. And this is exactly what happened.
Users complained much faster than the company could respond which only make the issue worse.
What can we learn from this?
Be sure that your advertisements aren't inappropriate and/or offensive. We can't say it enough.
If you decide it's necessary to run an advertising that might be controversial, then be ready for it. Have all hands on deck so you can respond as quickly as possible. The sooner you deal with the issues, the less likely it will spiral out of control. Be sure to ensure your PR team is working hand in hand with your social media managers during the launch.
Read our other Case Studies here.
Do you have questions? Want More Info?
Join the #AIMSocial Community and join the discussion!