We've spent hours reading stories of how social media was used out of context and caused brands a lot of pain, followers and money.


The moral of the story – Anyone (brands big and small) can make a mistake.

Let's learn from their mistakes, shall we?
If your hashtag on Twitter is rising in popularity, other users may hijack it in attempt to use it to market their own brands, products, or services. But what's worse, is if the hijacker uses hashtags that are for totally unrelated topics!
Habitat is a trendy furniture store – the UK equivalent to a slightly more upscaled Ikea. They did just that.
@HabitatUK went to Twitter and began using trending topic hashtags to get their tweets noticed.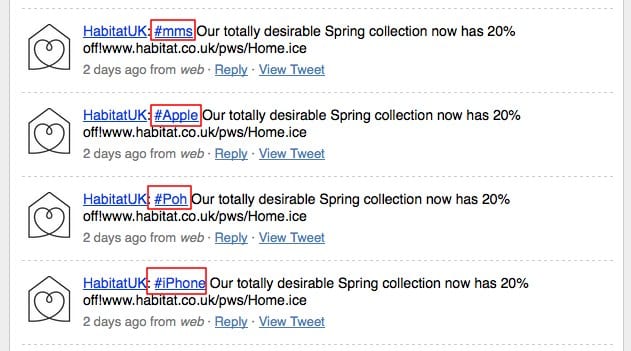 The hashtags they used had absolutely nothing to do with furniture, decorating or shopping. But were on the list of top hashtags that Thursday evening.
They used hashtags such as #iPhone #mms #Apple and even Australia's Masterchef contestant who got voted off #Poh!
What can we learn?
This is what spam looks like. By doing tactics like this, you are causing more harm than good. It makes your brand look unprofessional and "spammy."
Read our other Case Studies here.
Read more here.
Do you have questions? Want More Info?
Join the #AIMSocial Community and join the discussion!