We've spent hours reading stories of how social media was used out of context and caused brands a lot of pain, followers and money.


The moral of the story – Anyone (brands big and small) can make a mistake.

Let's learn from their mistakes, shall we?
If you're a business owner, you know that your personal and private lives are pretty tangled – especially on social media! This can lead to problems pretty quickly if you're not careful.
One of the vice presidents of Ketchum – an advertising agency – learned this lesson after a "lapse of judgment."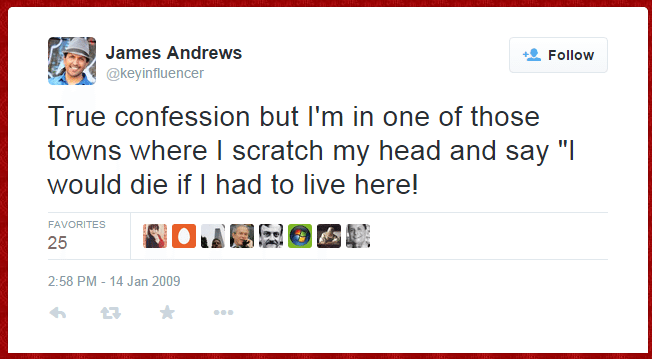 Andrews tweeted that he would "die if [he] had to live" in Memphis. Doesn't seem all that bad out of context.
Unfortunately, he was tweeting about the city where FedEx headquarters is. One of his largest clients!
To make things worse… He tweeted this the morning he was scheduled to meet with them!
What can we learn from this?
The saying "If you can't say anything nice, don't say anything at all" isn't a bad rule to follow. Keep in mind that as a business owner, manager or executive of a company, you may have separate social accounts – but you're still representing your brand.
You can read more about this story here.
Read our other Case Studies here.
Do you have questions? Want More Info?
Join the #AIMSocial Community and join the discussion!